Examination Performance
New GCSEs are now taken by students in the vast majority of subjects. These qualifications are graded from 9 to 1, rather than from A* to G as previously. The way that students' success at GCSE level is measured has also changed. There is now a greater emphasis on the progress students make rather than just on the actual grades they achieve.
Attainment
Average Attainment 8 – the points value of student's best 8 GCSE grades (with English and Maths counted twice).
Attainment 8 grade– this is the average grade that students obtained in their GCSEs at a school.
Basics – a key performance measure for schools is the proportion of students who attain a 'Good Pass' in both English and mathematics (grade 4 or above). A 'Strong Pass' is considered to be grade 5 and above. For English, it is the student's best grade of English Language and Literature which is included.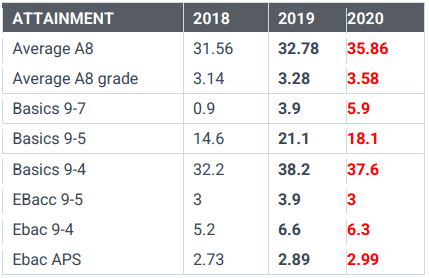 We are really pleased to have seen an improvement in our Attainment 8 and Basics measures have improved overall from 2018.

We are really pleased to have seen an improvement in both English and Maths in 2020 from 2018.
Progress
Progress 8 – the progress made by students towards achieving their expected grades based on their achievements at KS2. It is a calculation based on the achievement across 8 subjects for each student and based on whether they met, exceeded or were below their expected performance in each subject. A figure is then calculated for the whole school. -0.5 is considered to be the 'floor standard', or the minimum expected standard set by the government.
Orchard Mead's provisional Progress 8 Figure for 2020 is -0.26 which is above the floor standard.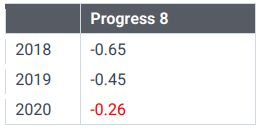 We are really pleased to have seen an improvement in our Progress 8 measure. More students have achieved results this year that will support them into positive futures.
Destination measures
A measure of a school's success is how well-prepared students are for the next stage in their life.
93% of our 2019 cohort had positive destinations, they are participating in either:
Full-time study in a school, college or with a training provider
Full-time work or volunteering combined with part-time education or training
An apprenticeship or traineeship